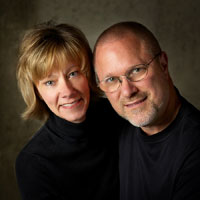 Humphrey Photography - Nashville, IL - opened in 1976. It was the second studio location for Kenneth Humphrey. Steve and Pat purchased the business from his father in 1983 at the original location on St. Louis Street. In 1998 they built a new studio at the current location of 925 N. Mill Street.
Steve has 34 years of photography experience. Apprenticing under his father, Steve started photographing weddings, senior portraits, families, children, commercial and schools. He attends continuing education several times a year as well as providing education through Illinois workshops. Steve was also well trained in the darkroom with custom printing techniques. Humphrey Photography is a full service digital studio providing color, black & white, color tones, custom watercolor and restoration in all the most current products available. Pat will enhance your studio experience with customer service, sales and pre-consultations. She will personally design your matting and framing to complete your images or treasured art.
Competition images have earned Steve Top Ten Photographers, Judges Choice Awards and Illinois Loan Collection. His images are part of the Professional Photographers of America Showcase books and esteemed Traveling Loan Collection. In January 2006 he received the Bronze Photographer of the Year Award. Steve holds the Master Craftsman degree from PP of A.
OUR GOAL...
is to provide the highest quality imagery and outstanding customer service to the satisfaction and delight of our clients!
Call our studio for additional information. Thank you for visiting our on-line studio!
Experience the Magic!